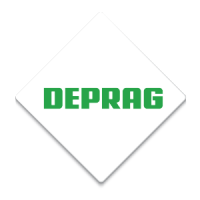 Standard solutions at an attractive cost-benefit ratio
Patented Vane-Exchange Feature
Highly durable
ATEX-compliant
Short delivery times
Flexible material options
Power Range: 200 W – 1,2 kW
The cost effective airmotors made for the use in uncomplicated production areas.
Additional Advantage: Save production time because of our patented Vane-Exchange Feature!
Your Advantage:
ATEX certified
Patented Vane-Exchange Feature
Large speed range
Reversible
Robust design
---
Power Range: 20 W – 1.2 kW
DEPRAG's broad selection of stainless steel airmotors is known as the Advanced Line. They are sealed, oil-free operable, noncorrosive pneumatic motors.
Your Advantage:
ATEX certified
Rustproof
Can be operated without lubrication
Sealed
Reversible
Available with integrated holding brake
High power-output at the smallest possible installation area
---
The Power Line airmotors range of high-power bracket and flange motors is extremely versatile. The high start-torque at an unmatched low weight, the robust and reliable design are the major advantages of this motor series, when compared to any electric motor.
Your Advantage:
ATEX certified
Powerful
High start-torque
Low weight
Robust, reliable design
Durable
---
The cost efficient and customized pneumatic motor can be derived from our modular construction system, be based on a customer-specific product or on a totally customized solution.
Your Advantage:
Attractive price-performance ratio
---
Drilling Motor:
Our powerful drill spindles feature a slender design that allows for the smallest installation hole pattern in multi-spindle units, as needed in the window- and door industries
Milling Motor:
Our durable milling motors are especially well-suited for robotic applications; they require only minimum installation space but offer a high power-output even at high speeds.
Grinding Motor:
Our grinding motors offer the advantages of the reliable, handheld DEPRAG grinders, however in a stationary execution for a direct machine installation. The robust steel housing guarantees high accuracy and operational reliability.
---
A cost effective total solution:
Benefit by using our standard program of pneumatic motors that feature an integrated brake-module.
For the design series 67 and 68 from 200 W – 3,6 kW
Your Advantage:
Brakes provide the effective hold of a large flywheel mass
Automatic braking when air-pressure drops
Output spindle is held to a constant position without using an external air supply
CONNEXALL

CO., LTD

has an excellent and deep understanding about our products as well as customer needs. We therefore only select high quality assembly tools that are well-recognized and widely used.
The benefits our customers will receive
Assemble projects faster and more accurate
Reduce energy-associated costs
Provided with long-term maintenance service
Connexall's after-sales service includes
CALL TO DISCUSS YOUR PROJECT